About Samantha
Born on August, 21st 1980 – this hard working, rough playing girl is a true Oregon native. She grew up in Beaverton and has lived in Portland since she was 21. As a child she split her time between playing softball and spending time at the coast with her family.
About Gabriel
The older and more mature of the couple, Gabriel was born July 18th, 1980 in Summertown TN.  He spent his youth in New York, but has called Portland home since 1991. He has a love for the outdoors, adventures and things with two-wheels.
Together
Sam and Gabe met as freshmen in the fall of 1998 at Portland State University. They immediately became friends.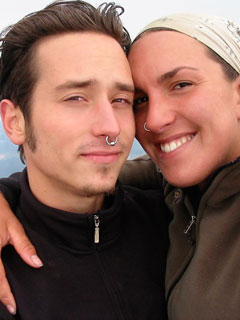 After four years of friendship their relationship began to evolve into something more. They realized that they had very similar hobbies and aspirations. Over the years, they have shared many adventures. They both have a love of the beach, hiking, biking, kayaking, and mountain climbing.
They now happily reside in the Westmoreland neighborhood of Southeast Portland, with several colorful fish and a very ornery cat. On a fine spring or summer day, you're likely to find them digging, planting, weeding or pruning in their modest backyard garden, or riding to one of the local brew pubs to meet with friends.
Six years have past since they fell in love
…and their story continues on an adventure filled weekend in Bend Oregon. On that August night filled with stars Sam asked Gabriel to spend his life with her. The answer given was… No? Gabriel already had something else in mind for the proposal. The next day on the top of Pilot Butte, with a seven mountain view before them, Gabriel made a grand gesture of his own. Jumping on a large boulder and getting down on one knee, with ring in hand, he asked Sam to spend her life with him. The answer was…Yes!
Planning the event

To insure their families could attend, Gabriel and Sam chose to have their union ceremony in July. They plan to summit Mt. Hood on July 8 and sign the marriage license among a small group of friends*. Their anniversary will be 7.8.9. On the following weekend they will join their friends and family and have a ceremony and reception to celebrate their union.
* Plan A was canceled after Sam borked her leg during the bachelor party. For plan B, I decided to charted a surprise flight over Mt Hood… but bad weather spoiled that one. Instead (plan C), we all headed to a cherished spot at the coast for out nuptials.
Who's last name?
As a tribute to Samantha's dad Gary Nagmay, who raised her since the age of two – both Samantha and Gabriel will be adopting his last name. We welcome you to the Nagmay Wedding!